Payment & Supply Chain Financing Automation
Manage payments seamlessly from one integrated platform 

Gain time & efficiency with straight-through payment processing
Payment management plays a central role in the end-to-end source-to-pay process while fostering overall procurement excellence. That's why Esker equips today's companies with the technology necessary to automate payment approval workflows, secure discounts and support suppliers that need cash. 
What are the benefits?
Faster invoice cycle time & greater cost savings
Accurate & on-time supplier payments, improving quality relationships 
Ensured compliance & support for a sustainable & reliable supply chain
More time for AP teams to focus on higher-value objectives
What's preventing secure digital payments?
Achieving the ubiquity of faster, secure payments has been challenging because of the infrastructure needed for completing an end-to-end payment — from initiation to settlement and reconciliation.



Countless disparate systems

Numerous payment methods, geographies, and intermediaries impede payment and reconciliation operations.




Safety, integrity & trust

Financial institutions, banks and payment service providers must comply with increasing standards and regulations to securely deliver customer services.




Collaboration

Payment runs and financial transactions go through a validation process involving several team members, which can become tedious when done manually.
How Esker helps
Payment automation reinforces sturdy supply chains by providing early-payment discounts and supply chain financing options, while also addressing fraud prevention, late fees and negatively impacted cashflow concerns.
Benefit from a single platform. Integrated payments streamline operations: pay on time every time and avoid late payment penalties. Thanks to Esker, there's no more back-and-forth between various systems, and the payment approval process is easier from the interface when it involves several team members.
S2P e-payment run: Users have the ability to manage the actual payment approvals electronically: users can select, preview, and approve online.
Supplier payment program: Esker makes it easy for suppliers to get paid by ACH, checks, credit card or wire payments. By pairing the efficiency-boosting benefits of Esker Accounts Payable and the cost-saving supplier payment programs, you can turn your AP department into a well-oiled, revenue-generating machine.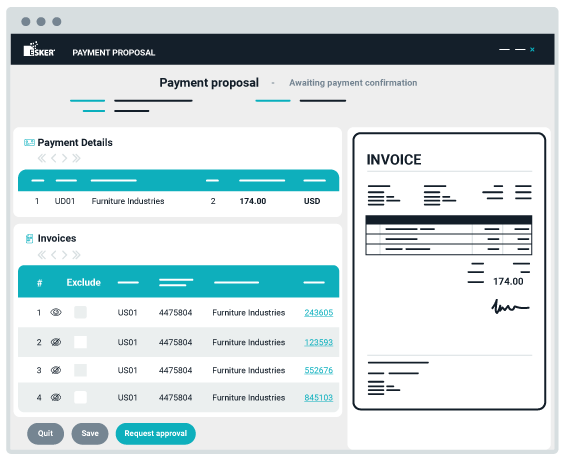 Combining Esker Accounts Payable, terms optimisation and early payment programs enables you to benefit from faster approval, increased visibility and integrated data. Support suppliers facing increasing needs of capital and secure your supply chain.
Terms optimisation: Leverage detailed analytics to optimise cash on hand by making sure payments are timely and terms are aligned with industry standards.
Dynamic discounting: Esker Accounts Payable allows buyers to pay the seller before the agreed terms in exchange for an invoice discount.
Supply chain finance: Early payment programs such as integrated supply chain finance expand the capabilities of Esker Pay to help your business optimise working capital and deliver on-demand supplier early payments.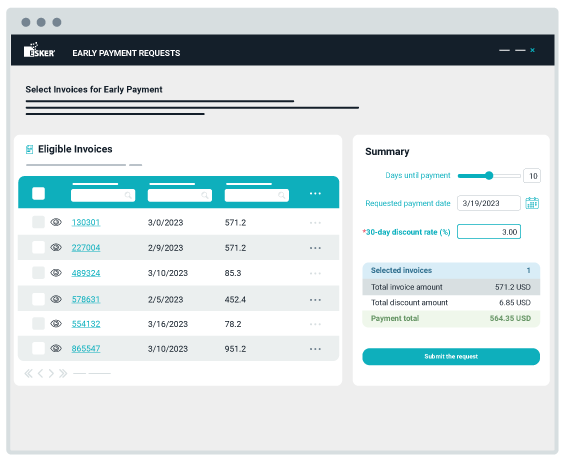 Build a secure customer/supplier relationship with a high level of automation and traceability at every step of the S2P process. Thanks to our certified partners, outsource compliance requirements, store and process transaction details.
Bank details verification and fraud detection: Esker improves supplier payment automation in the most secure way thanks to an integrated bank account and ID verification services. Esker's solution collectively fights the risk of bank identity theft fraud.
Supplier statement reconciliation: Esker's AI-powered feature automatically detects potential errors and differences between the recorded invoices and the received statement. When a statement is sent to Esker, data is extracted to ensure that each document/line is accounted for based on the replicated table data of invoice information previously uploaded by the user.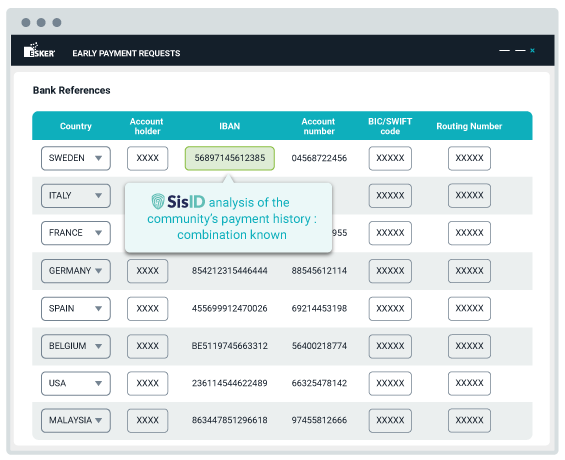 Positive-sum growth
Everyone wins with Esker!
Your employees

Free up AP employees for more value-added tasks
Eliminate issues & mistakes in payment processes

Your company

Improve your bottom line
Accelerate invoice cycle time
Improve your cashflow
Negotiate for discounts

Your suppliers

Ensure compliance & reduce fraud risk
Get paid on time & without error
Build better relationships with your suppliers
You're in good company. Explore some of the other companies and AP leaders that have benefited from automating their processes with Esker.